About TestIstanbul Conference
TestIstanbul is the first and largest international software testing conference of South East Europe and Middle East Regions. TestIstanbul hosted thousands of attendees and dozens of keynote speakers from all over the world,
since 2010.
TestIstanbul is the event that annually up-to-date edition of TSQR becomes launched. The conference is created and hosted by Turkish Testing Board and it is a member of ISTQB® Conference Network.
See Previous Reports & Conferences
- Mobile Testing
- Performance Testing
- Crowd Testing
- Security/Penetration Testing
- Stress Testing
- Virtualization
- Test Automation
- Integration Testing
- Test Management
- Micro Services
- IoT Testing
- Big Data Testing
- BDD
- Test Infrastructure
- DevOps
- Continuous Integration
- Monitoring Metrics
- Regulations and Constraints
- Device Farm
- Testing on the Cloud
- Testing from the Cloud
- Software as a Service
- Platform as a Service
- Infrastructure as a Service
- Cloud Monitoring
- TDD
Koray Yitmen, Turkish Testing Board
Opening Speech: "Artificial Intelligence vs Human Mind : who will be the winner in software testing?"
"Turkey Software Quality Report (TSQR) 2018 – 19"
Event Partner Session:
Emre Balkanlı, Mobven
Title: Quality from User Perspective
Main Sponsor Session:
To be announced soon
Mark Winteringham, Software Testing Clinic
Keynote: Liberation Not Replication: Automate to Support Testing
Learn More
Event Partner Session:
Keytorc
Main Sponsor Session:
To be announced soon
Event Partner Session:
Testinium
Main Sponsor Session:
To be announced soon
Panel
Future of Testing
Moderator: Vilma Orancı, TEB
Panelists: Emrah Yayıcı – Keytorc, Gökhan Çapan – Persona Tech
Panel 2:
How to Achieve High Quality Software; Static and Dynamic Code Analysis
Moderator: Berk Dülger – Keytorc
Panelists: Koray Yitmen – Turkish Testing Board, Okan Ünverdi – Mobven
John Ferguson Smart, Author of 'BDD in Action'
Keynote: Next Generation Test Automation: patterns and practices for the future
Learn More
Event Partner Session:
BKM
Main Sponsor Session:
To be announced soon
*10% discount to ISTQB certificate owners.
Venue
Renaissance Istanbul Polat Bosphorus Hotel
Attendees Enjoyed The Stunning View Of The Bosphorus From Hotel
More About Venue
I'm miked up and ready to give my Enterprise Challenges of Test Data speech. #testistanbul

Rex Black

@LaikaTestDog
Discussion Test Data Management challenges @testistanbul, where in also lot about certification & Test Automation.

Marcel Hogenhout

@marcelhogenhout
Just finished my presentation, good fun, many people taking notes and asking questions afterwards.

Roland Van Leusden

@RolandLeusden
Great time at #testistanbul. Not only knowledge sharing but also entertaining.

Mahmoud Khalaili

@mkhalaili77
Turkey Software Quality Report 2018-19 Will Be Published
This report is designed to help companies to make paradigm shifts in their mindsets. It not only draws a clear picture of the current situation in the Turkish market but also sets the de facto standards and trends for future information technology (IT) projects. As IT projects begin to fail more frequently in our market, this kind of a report will be a reference point for all decision makers.
See & Download Previous Reports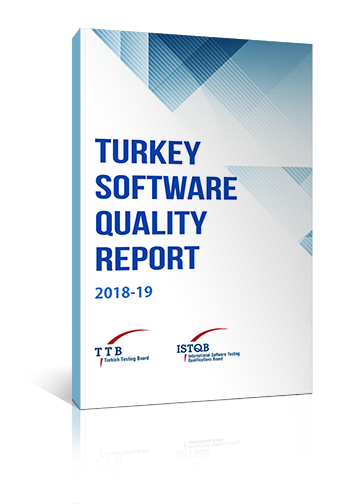 Get in Touch
Got a question? Don't keep it to yourself